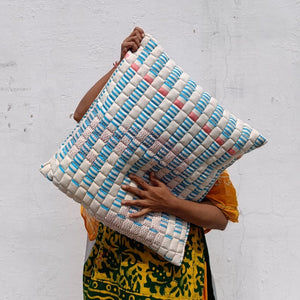 Since we have only one artisan - Rafiq bhai practicing the craft, it will take approximates 2-2.5 months for dispatch of the product. 
Stuffed double cloth hand woven cushion cover with hand appliquéd and embroidered surfaces.
Size: 50*50cm
"Craft in need of help, is the failure of design intervention!"
- Hetal Shrivastav

Sujani craft from Gujarat, India is at the verge of extinction as there are only very few artisans left who are practicing. Rafiqbhai is one of the artisan who has the last traditional loom. If he stops, it is probably gone!

This product is made under project "Unschooled Artist" where designer and artisan together develop a product which is using traditional technique and is useful for current market requirement. Modern designs keeping the craft intact is the inspiration behind the design process.